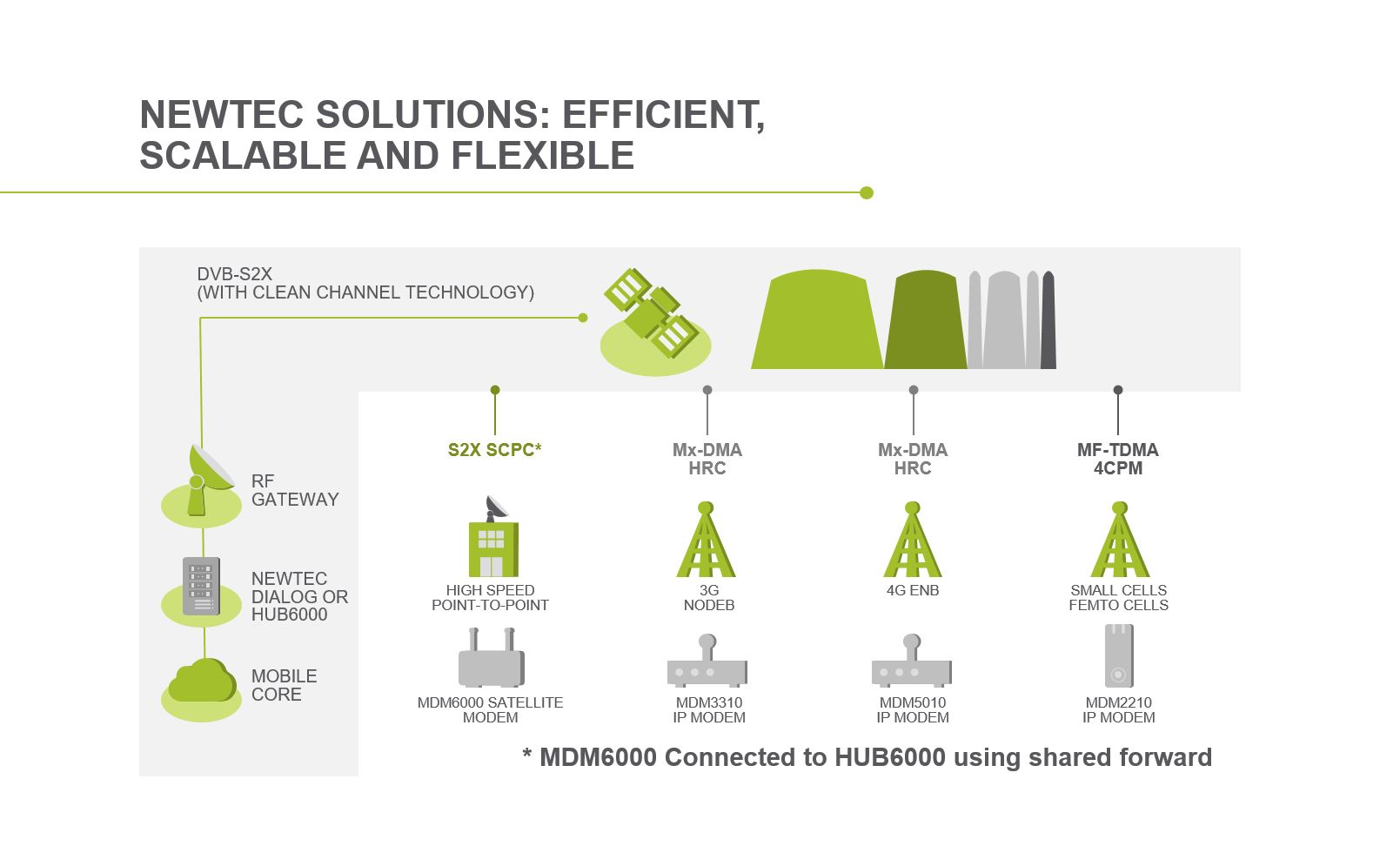 SATELLITE COMMUNICATIONS PLATFORM
Our VSAT platform is a scalable and flexible multi-service satellite communications platform that allows satellite service providers to build and adapt their networks easily as their business' grow and services evolve.
A set of key technologies bolsters the high availability platform to offer highly reliable services at unsurpassed efficiencies.
A range of state-of-the-art satellite hubs designed for IP applications over satellite, in full compliance with DVB-S2 and DVB-S2X standards.
Newtec Dialog VSAT hubs incorporate the latest high-end RF optimisation features; a complete suite of IP processing capabilities for maximum flexibility to meet any business application.
The satellite modem portfolio features a variety of specs appropriate for consumers, corporate markets, service providers, governments and large-scale distributed mining operations over satellite requiring fast return speeds.
The Newtec MDM5000 Satellite modem – as used on the Newtec Dialog® platform – is the first VSAT modem on the market that supports DVB-S2X.
With a symbol rate ranging from 1 up to 133 Mbaud and coding from QPSK to 256 APSK in the forward channel, it enables network operators to set-up almost any type and size of network on any available type of satellite – for example, traditional FSS, next generation High Throughput Satellites, HTS.
The Newtec MDM5000 Satellite Modem supports a wide range of IP Services including internet / intranet access, Voice over IP (VoIP), backbone for 4G mobile backhauling and trunking, contribution and multi-casting services.
High Throughput
The Newtec XIF Hub is designed for operators seeking high throughput through its 10 Gbps Ethernet switching infrastructure. With support for Forward DVB-S2X carriers up to 500Mbaud, they can leverage the high bandwidth transponders provided by HTS satellites.
Highly Flexible and Scalable
The Newtec XIF Hub is the solution for gateway deployments serving a multitude of beams, transponders or satellites. The use of a baseband matrix brings N:M redundancy for up 32 multi-carrier modulators and / or demodulators in one rack.

Satellite interference is an increasing problem, makes Carrier Identification (CID) is an important part of a VSAT solution to mitigate interference.
Clean Channel Technology improves satellite efficiency by up to 15% compared to the current DVB-S2 standard.
When a satellite link condition changes the link will be optimised following Quality-of-Service and Priority Settings without the loss of data.
The new DVB-S2X standard, released in February 2014, results in 15-30% efficiency gain in a typical distribution network.
Our unique and market proven end-to-end solution makes the satellite link much more efficient.
Innovative next-generation waveform, typically applicable for low to medium rate applications between 32 kbps and 22 Mbps.
The Newtec Mx-DMA return technology incorporates the best features of MF-TDMA and SCPC technologies.
An innovative self-installation system to easily position the antenna correctly by identifying the satellite.
With the full implementation of S2 Extensions, staggering efficiency gains up to 64% can be achieved for professional applications over satellite.
Contact Us for Your Custom Broadband Solution Now
We respect your privacy and promise never to rent or share your details with anybody without your consent.